LED Rechargeable Laser Flashlight
Regular price
Sale price
$39.99 USD
Unit price
per
Sale
Sold out
90000 Lumen HIGH POWER LED FLASHLIGHT
Tactical Flashlight High lumen, with Built-in XHP90 Super Bright LED for a maximum output of up to 90000 lumens, 8000K Sunshine light illuminates a Bright light over the length of about two football fields and reaches nearly 1640ft.
Rechargeable Flashlight, Long-lasting, power bank
Rechargeable Flashlight High Lumens, 3000 m-a-h large capacity Ba-tt-er for a long life, this LED rechargeable flashlight could run up to 8 hours. The USB input port allows you quickly charge the flashlight and the USB output port helps this led flashlight work as an emergency power bank to charge your phone, camera and etc.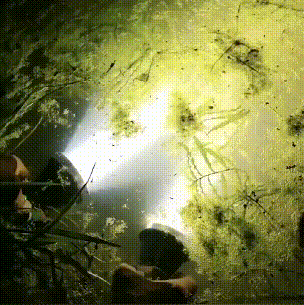 Modes & Adjustable Focus
Upgrade P90 high-lumen LED Flashlight, spotlight for long range, and floodlight for large area illumination. This 90000Lumen tactical flashlight is great for emergencies, camping, inspections, Flashlights For Police, and Everyday Use.
Better Quality IPX5 Water Resistant
Durable, water resistant, strong shock resistance, high-quality aluminum alloy protects flashlight torch from rust, scratches, and corrosion, it allows use in various extreme weather. But it can't be immersed in water.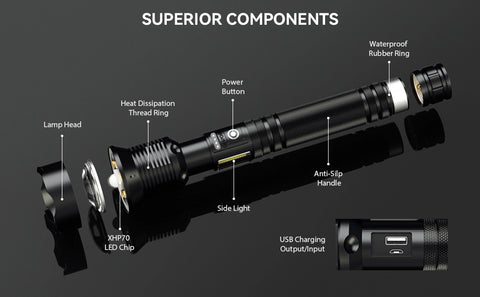 Durable, Waterproof, Practical
This Heavy Duty flashlight is made of aerospace grade aluminum alloy, Non-slip and Durable, IPX6 waterproof for convenient usage in various extreme weather. ONE KEY TURN OFF Function means Long press the switch for 2 seconds to directly turn off the flashlight at any mode. and this rechargeable flashlight has a power display light that helps you see the rest power at a glance. remind you to charge the flashlight in time, practical as a camping flashlight or EDC Flashlight.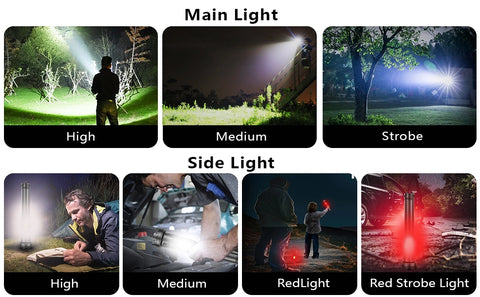 Why choose WolfTorch LED Flashlights?
Amazing Illumination: With 90000 Lumens, a Professional LED flashlight is strong and sturdy.
How to Turn on COB Sidelight: quickly double-click the button to get the COB light turn on. (The interval time is less than 0.5S)
ONE KEY TURN OFF: The flashlight can be turned off at any mode, No need to cycle through all modes.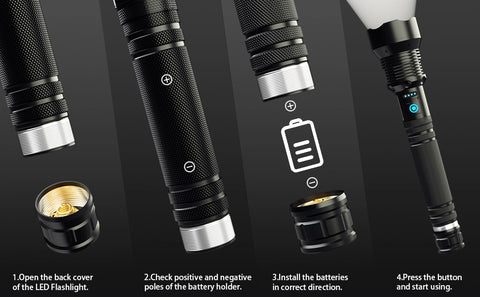 USB Rechargeable Flashlight: rechargeable Flashlight with a USB cable included, you could charge this rechargeable Flashlight via any USB device, like a power bank, car charger, computer, and so on.
Flashlight power bank: The USB input port allows you quickly charge the flashlight and the USB output port helps this led flashlight work as a power bank to charge your phone, camera and etc.
Long Lasting Flashlight could get an 8-10hours runtime if get a full charge, the USB output and input interface mean this flashlight can be charged, also can serve as a power bank to charge your phone, camera and etc.
IPX6 Water Resistant: IPX5 waterproof, you can use this waterproof flashlight in rain and snow days, A good choice when you choose a camping flashlight.
Switch (On/Off and mode change)
Main Light: 3 Modes (High/Medium/ Strobe )
First Click Power Button (High Brightness), Click the Second Time to Change to Medium Brightness, and Next Click Change Mode to Strobe and The Fourth Click to Turn Off the Flashlight.
Long press for 3 seconds to turn it on or off.
Rechargeable Tactical LED Flashlights Note:
When inserting the ΒATTERY, please make a "+" face towards the inside and "-" towards the outside.
Before charging, please make sure that the ΒATTERY is installed in the correct direction, otherwise, the flashlight will be damaged.
When not using it for a long time, please take out the ΒATTERY.
In order to prevent the problem of not being able to charge in the future, please do not run out of electricity before recharging.
Please do not mix old and new BATTERIES, BATTERIES of different BATTERIES and brands.
Keep the inner wall of the lampshade clean, do not wipe with your hands and hard things, use cotton swabs and professional tools to wipe the fingerprint on the lens.
Shipping Policy

3-7 working days for most countries and districts (24 hours to process the order and additional 3-7 working days for shipping).

For remote districts it may take longer time.During peak seasons(like Mother's Day, Christmas) shipping might need additional 1-2 working days to ship
Warranty & Note

We will examine all the products before shipping them to your location, so we are 99% sure that everything is perfect and no missing parts.

However, we hope that you can understand the product might travel a long time then arrive in your hand, so it might be damaged during this traveling.

Don't be angry! Just send us a message or email, and we will try our best to solve your issue. All the messages will be replied to within 24 hours, so thank you for your support and understanding.
Share
Brighter than any other
This is probably the best flashlight I've come across. Besides being east to focus and bright as the sun… it's solid and solves the worst part about other flashlights…. ITS RECHARGABLE. D batteries are a pain… it come with a cradle so you can charge the battery out of the flashlight, but you can charge without removing the battery. The cradle would maybe be cool if I saw how to buy another battery.
This flashlight is Top Quality
Purchase this about a month ago love it very high-quality great light you can zoom in zoom out I'm buying another one. 5 stars.
Very sturdy and bright; and I like the zoom capability.
Great for walking the dog at night and, secondarily, for self-defense.
Great light
Works really well! I use it when letting the dog out at night and when it's zoomed out I can easily light up my whole back yard. When focused in I can blind my neighbor through his living room window 3 blocks away! Battery life is so good I still haven't recharged it after about a month of evening uses. I really like that you don't have to remove the battery to charge it like some other flashlights. Would definitely buy again.
AMAZING! Very Bright!!
Bought this for my dad for Christmas this year and I charged it before giving it to him. I saw yellows dots for 2 days bc he accidentally shined it in my eyes lol. I lost my cat right before and this flashlight also helped me before giving it to him. Long lasting battery can zoom the light in and out by pulling the head and if you rotate it will become more clear and different shapes. Has different modes as far as 3 reducing brightness, it flashes as well. Not heavy but would hurt someone if needed to use as a weapon to hit someone.