Cat Fun Box
Regular price
$79.99 USD
Sale price
$45.99 USD
Unit price
per
Sale
Sold out
Presenthem Whack-A-Mole Cat Toys--Challenge Cats Kittens Mental Puzzle Physical Exercise Games
It is a smart interactive cat toy with a microprocessor chip, sensor, electric motor, gearbox, and rechargeable, intelligent software to drive feather mimic mouse randomly Pops out and Hides in 7 holes at the top and 3 side 2levels, Automatic interactive with cats.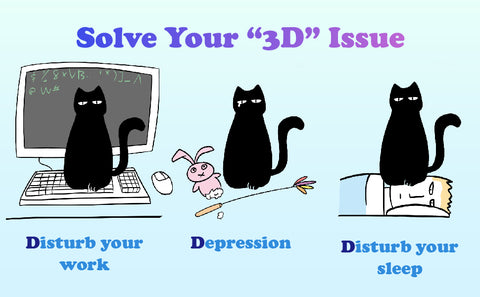 Cats Need Play for More Entertainment
cat self play Presenthem cat toys to relieve cat depression boring free person to sleep work
Cat Need to Relieve Boredom, Loneliness, Buring Extra Energy
It is Cats' native instinct to play something to exhaust extra energy as daily activities. Otherwise, the Cat kitten will be boredom, lonely, depressed, lazy sleepy. Cats full of extra energy either destroy something in the home. or wake up you while you are asleep or disturb you when you are busy to work.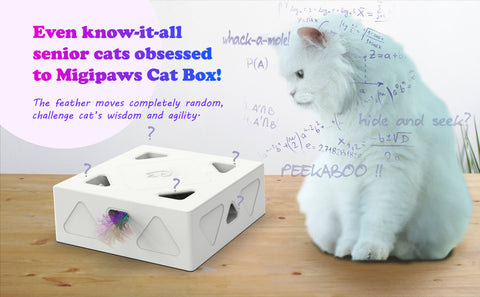 Presenthem cat toys --Smart Whack-A-Mole game is a great solution for you and your cats. Cats could be attracted long time self play Migipaws Whack-A-Mole Cat toys. It is great Mental and physical exercise to burn cats' energy to exhaustion.
Presenthem Cat Toys: Automatic Self-Play PeeKaboo Game
Shipping Policy

3-7 working days for most countries and districts (24 hours to process the order and additional 3-7 working days for shipping).

For remote districts it may take longer time.During peak seasons(like Mother's Day, Christmas) shipping might need additional 1-2 working days to ship
Warranty & Note

We will examine all the products before shipping them to your location, so we are 99% sure that everything is perfect and no missing parts.

However, we hope that you can understand the product might travel a long time then arrive in your hand, so it might be damaged during this traveling.

Don't be angry! Just send us a message or email, and we will try our best to solve your issue. All the messages will be replied to within 24 hours, so thank you for your support and understanding.
Share
My cats are all over this thing - they LOVE it!
My cats have grown bored with their old toys, so I bought this to see if it would get them excited about playtime again. They are fascinated by this toy and have been playing with it non-stop for over an hour now! Really impressed with how long its holding its charge and that it doesnt need batteries. Even my elderly cats love to play with this! Worth every penny.
Obsessed
All three of them actually came together to play with it! Two young boys and a senior girl finally getting along playing with this!
AAA+ Kiddos love this
They loved this...only issue is they keep pulling the feathers out, but they do enjoy it and a lot time playing with it, the UBS charge is a bonus too, no batteries to replace
Awesome!!!
Play Video
Love it they actually get activity arguing over who plays with it. This one my "boops" loves it. If awake and on it. Couldn't imagine if he was still a kitten. Heck they would go crazy. Love this gift for them
Hes obsessed!
My cat is obsessed with this! Its so hard to find toys he actually likes because hes not a play solo kinda cat, he really only likes when we play with him so automatic toys have all been misses. But he LOVES this. The pattern isnt just repeating over & over like some other automatic toys so its great! I gave 4 stars for the sensor part, its just a little tricky for him to get it to come back on- I usually have to go over myself and put my hand over the sensor but once I do it it comes right back. 10/10